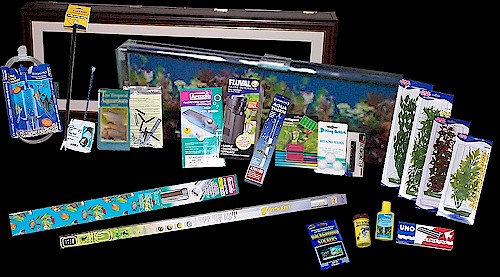 Price Includes
Cabinet and Frame in a choice of colours and sizes
Strong 6mm Glass Aquarium with sliding Condensation Trays to prevent evaporation
Themed Aquarium Background Picture - Already fitted for your convenience
Aquascaper 'Living World' Artificial Plants for ease of maintenance
Thermostatically controlled aquarium Heater for Tropical Fish
Fluorescent Light Tube - correct size for your Living Picture
Reflector Unit - chosen for the best lighting effect for Living Pictures
Liquid Crystal Thermometer
Ornaments and Rocks (Crystal Cave & Atlantis themes)
'Arcadia' Aquarium Transformer unit for Light
Internal Power Filtration unit with built-in Aeration system
Aquarium Cable Tidy for - Keeping wires tidy !
All Fittings and Full Instructions
SPECIAL OFFER FOR A LIMITED PERIOD
A Free Full Maintenance Kit
Specially Selected for Living Picture Aquariums
Worth £37
includes :-
Fantastic 'Algae Magnet' for cleaning the front glass
Two sided Cleaner and Planter tool - perfect for Living Pictures
Tetra Min fish food - the best food for your fish
Aquasafe - A few drops in your tap water makes it instantly safe for aquariums
White Nylon Fish Net - specially selected for Living Picture Aquariums
Packet of Background Stickers - enables you to change background picture in the future
Prime Gravel Cleaner Syphon Kit - for easy Aquarium cleaning
Aquarium Book - Guide to keeping Tropical Fish
Feeder Blocks for your fish - when you go away for a few days.
Please note: Plants, ornaments & equipment may vary slightly according to availability.