Crystal Cave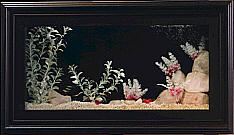 This is something totally different. A Jet Black backdrop (as in a cave) with real rose quartz rocks to decorate the inside of the tank and pebbles complete this stunning effect. This theme looks particularly well with a black frame, white gravel and neon tetras.
Please note - We now supply green plants with this.
Original in Black Picture Frame illustrated.